Worried about NFPA 70E requirements on opening energized electrical panels, we have the solution.
Balance Vibration Technologies is the IRISS representative for this area.  We can custom fit any panel cover with IRISS windows, so that infrared inspections can be safely done without opening energized electrical panels or motor junction boxes.  Please call today for a free quote.
Save Time, Save Money, Stay Safe
VPFR Infrared Viewing Panes
Balance Vibration Technologies has been selling, and installing industrial-grade VPFR series infrared windows from IRISS for clients that enables thermographers to survey critical electrical components more safely than ever before. National Fire Protection Association (NFPA 70B) standards recommend infrared inspections be done under fully energized conditions; but PPE requirements (NFPA 70E), panel cover removal and reinstallation are time-consuming and therefore costly.
Use of the VPFR nearly eliminates the risks associated with infrared electrical inspection by providing companies with a non-invasive, closed-panel inspection methodology.
Thermographers inspecting through the window are never exposed to energized conductors and circuit parts, and not engaged in risk-increasing behaviors (as outlined in the 130.7(C)(9) of NFPA 70E). Therefore, the elevated levels of PPE prescribed by NFPA 70E for invasive surveys are not required when utilizing the VPFR, thereby minimizing survey time while maximizing safety.
VPFR Features
Industry's only impact resistant IR window: Patented reinforced optic exceeds high-voltage switchgear viewing pane standards.
Stable transmission rates: Industrial-grade materials unconditionally warranted against transmission loss for accurate qualitative and quantitative analysis.
Born out of necessity: Created by a Level III thermographer as a solution to hazards and shortcomings of traditional techniques/materials.
Manufactured from non-conductive UL94 plastics insulated to 30kV/mm.
Certifications
UL 50V
IEEE C37.20.2(a.3.6): Impact and load
UL 746C: Impact and flammability
UL 508A; ANSI UL 508A
IP65/NEMA 4
Lloyds of London Type Approval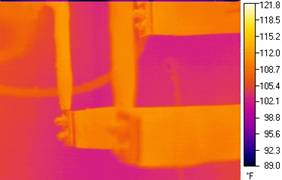 TPC Series – Transmissive Panel Covers 
Balance Vibration Technologies can also customize your dead-front panel covers with IRISS Transmissive Panel Covers (TPC series).
TPC Features
Custom sized to fit you application
Based on the same patented designs used in standard IRISS infrared windows.
Thermographers gain full access to view connections, without the risks associated with panel removal.
Elevated levels of PPE not required because conductors are kept enclosed and guarded, and procedure is non-invasive.
Reduced PPE levels save time and money.
Data collection under peak load make identification of faults more accurate and easier.